Jerry Thomas
Take-out & Delivery Cocktails, Now Legal In New York State, Can Save Restaurants
With increasing concern over the spread of COVID-19, New York's State Liquor Authority (SLA) made effective Monday, March 16, 2020 at 8:00PM until Further Notice that New York state restaurants and bars can now sell cocktails for takeout and delivery with one simple caveat – they have to sell them with food. These new guidelines are a lifeline for all New York state restaurants as more and more eateries across the country are being required to shut down their dine-in operations and turn only to delivery or take-out to keep their businesses running. For take-out orders, it's important to note that these establishments can now sell, for take-out and delivery, anything their alcohol license would normally permit for sale to dine-in customers, as long as the drink containers used follow open-container laws. For deliveries, the vehicle delivering the cocktails must either be operated by the licensee or its employee (with a copy of the alcohol permit/license present in the vehicle) or have been provided specific authorization from the SLA (i.e., an authorized 3rd party delivery service).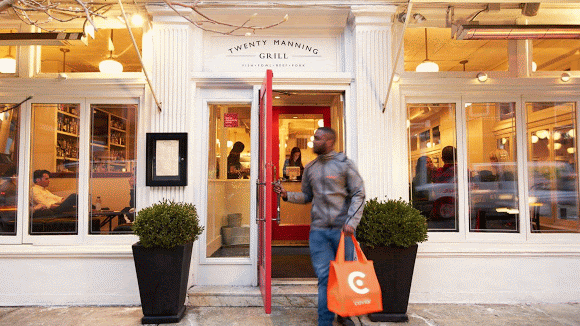 This move comes as a huge sigh of relief for many New York food service businesses, as most now suffer from a complete loss of dine-in sales and thus need to find new channels of revenue in order to stay in business. For the businesses that want to stay open to sell food and alcohol, but may be short-staffed or need to lower their operating costs, an automated cocktail solution is worth looking into. Automated bartending company Somabar provides an affordable countertop machine that, with just a tap, allows any staff member to craft fresh, professional cocktails in 10 seconds or less. Somabar's system provides alcohol-licensed establishments the means to sell fully-customizable drinks without the need for any mixology knowledge, while minimizing physical contact and contamination during drink preparation. Somabar allows each establishment to offer unique, cuisine-complimenting drinks to its customers, and is so simple to operate that most restaurants start selling drinks the same day they receive their Somabar machine.
Conclusion
In this time of great uncertainty and challenges, all businesses, and in particular those directly impacted by COVID-19 shut-downs such as dine-in restaurants, must seek new and creative ways to help make ends meet. Thankfully for these eating places and all New York state residents, the New York SLA has offered a powerful tool by allowing cocktail take-out and delivery, which, together with innovative solutions such as Somabar, may help keep New York restaurants and its employees afloat in the unpredictable days and weeks to come. You can read the full New York SLA guidelines update HERE.